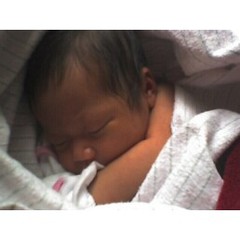 Every day she looks different and is growing very quickly. 90% of my photos are of her sleeping since my hands are full when she's awake either feeding, burping, changing, or holding her.
She laughs and smiles a lot while sleeping. These past two days she's been much more alert and taking in her surroundings. I'll try to post pictures of her with her eyes open.
When she was still in the belly, I used to place headphones against it and play lullabyes...not the typical ones, but songs that have been converted from our favorite artists like The Cure, Radiohead, Smashing Pumpkins, etc. She seems to fall asleep and relax easier when I play the same music now.
You can sample a few of them here
http://www.myspace.com/rockabyebabymusic