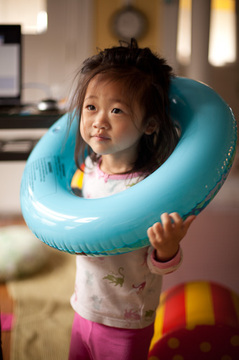 Aislee's dictionary:
Moon: Moon or something in round shape

Moon Cracker = Japanese rice cracker (サラダせんべい)
Tunnel = She just like to say.

Star = sounds like 'tar" (s is missing)
Banana = sounds like "manana"
Butter fly = sounds like "phata fay???"

Thank you = sounds like "chen che???"
Fish = fish or her favorite fish toy
Woo nice! = her favorite expression

Happy = she say often when she go sleep
Ice cream = She is allergic to all deli. So it means fruit sorbet.
Mam mam = food. She don's say any more.

日本語は、もうちょっとです。
ありがとうございます。