I Looove Farmers Market & Shopping!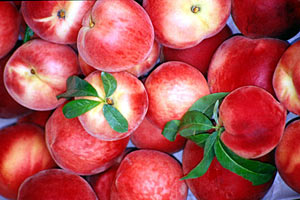 Beautiful white peaches from Kashiwase Farms (Organic, specializing in stone fruit, almonds, and Asian pears (yum!))
Today we headed to the Farmers Market at Santana Row. Thankfully the crowd was light, as I believe most people were swarming around downtown San Jose for the Grand Prix racing event. There were quite a few certified farmers there and a handful of organic vendors as well. We left with decent sized bags of delicious white peaches, white nectarines, shiney red plums, juicy strawberries, and one crisp, j-shaped Armenian cucumber - all organic of course!
Afterwards we made a quick stop over at the Great Mall in Milpitas for something to eat and to get a bit of exercise in. Window shopping at a mall that's the size of four football fields definitely counts as exercise.
This particular mall has a mix of really cool and some seriously junkie stores. I usually have a lot of fun visiting the accessory shops that sell all types of sparkley stuff. It's a bad case of "Magpie Syndrome", being attracted by things that glitter and catch the light. Maybe it was from being full or from shopping the day before at the Gilroy Outlets, but I couldn't find anything to purchase even though there were some excellent sales going on.
I left empty-handied, which felt strange. It made me think of two incidences - one where my ex-colleague told me that you should never buy something on sale that you wouldn't purchase at full price and the second was recently at H&M in downtown San Francisco. (Anyone who has been to H&M is familiar with their super low prices and beautiful clothes and accessories) There was an exasperated looking boyfriend being pulled along by his girlfriend as she was rabidly perusing the handbags that were marked down extremely low. He stopped her as she bent down to pick up another bag and said "Just because it's ten dollars doesn't mean you have to buy it!". After I stopped laughing, it made me think about all the crap I'd bought in the last few years that's sitting or hanging in my closet. Now whenever I'm tempted to buy something, I think about those two things and try to refrain from adding to my pile of stuff.
By the way, most of it is going on eBay in the next few weeks...