EWG, a great awareness site!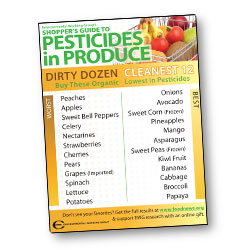 The Environmental Working Group is an excellent site to learn how to make healthier and wiser lifestyle choices when it comes to purchasing and consuming produce and other off the shelf goods that we rarely think about. Sign up on their mailing list and they'll provide you with the .pdf of the the image attached to this entry.
I would also recommend reading what they posted about parabens in skincare and other toxic chemicals regularly used in everyday skincare and beauty products.
Jeanette Lee Hada

Jeanette Lee Hada
Jeanette.Hada.Org
Contact Me
Profile
Primary Links
Maintenance by
Categories
Building a Business in Real Beauty
NotaryLoans
Skincare Pro
February 2012
| Sun | Mon | Tue | Wed | Thu | Fri | Sat |
| --- | --- | --- | --- | --- | --- | --- |
| | | | 1 | 2 | 3 | 4 |
| 5 | 6 | 7 | 8 | 9 | 10 | 11 |
| 12 | 13 | 14 | 15 | 16 | 17 | 18 |
| 19 | 20 | 21 | 22 | 23 | 24 | 25 |
| 26 | 27 | 28 | 29 | | | |
Hada Family