Fresh Pressed Pomegranate Juice!!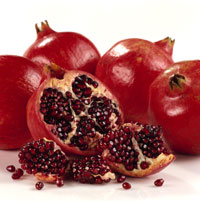 There are always treasures to be found at each of the local farmers markets in the Bay Area. Today was our first time exploring the one held in downtown Campbell. We decided last Sunday while at Santana Row's Farmers we'd follow one of the friends we made at the Twin Girls Organic Fruit Stand to his new location and purchase some of their fresh pressed, organic pomegranate juice. As usual, we arrived 30 minutes to closing. We found our friend, Isaias, and puchased a bag full of Fuyu persimmons, red/black pluots, two pomegranates (cracked, how Naoki likes them), and two bottles of the pom juice.
If you've ever tried and liked POM at your local grocers, you will LOVE Twin Girls freshly pressed pomegranate juice! The first sip will make you pucker, but after your initial taste it really becomes so deliciously sweet. It would make for a wonderful popscicle, drizzled atop vanilla ice cream or even a fruity vinegarette dressing. One thing to keep in mind though, it's best to drink it in a small glass. While it is preferable to drink after it's just been pressed, it does contain a high amount of sugar. There's also a potent amount of antioxidants, but a little does go a long way.
More on the health benefits of these jeweled fruit -
- High in potassium, vitamin C, folic acid, fiber and polyphenols
- lowers risk of heart disease by preventing the formation of plaque
- preserves nitric oxide, a chemical that regulates blood flow and maintains healthy blood vessel health
- combats free radicals that may cause stroke, hypertension and Alzheimer's disease
- high levels of antioxidants may prevent premature aging
- polyphenols may slow or even prevent the development of cancer
For lunch, we had focaccia made from organic, unbleached flour. It was stuffed with spinach, cheese, and herbs. I also made a simple soup by sauteeing minced yellow onion and garlic with extra virgin olive oil. After the onions were clear, I added chopped white chicken breast. A couple pinches of pink Himilayan salt and freshly ground pepper were then tossed in along with sliced portabello mushroom caps. Once everything was cooked and heated through, I threw in chopped spinach and poured in low sodium, organic chicken stock. I let the mixture come to a boil and then served it with the crispy bake focaccia. Everything in the soup and focaccia was organic.
I love the earthy flavor mushrooms lend to any dish they're a part of.