The New Bloomingdale's in San Francisco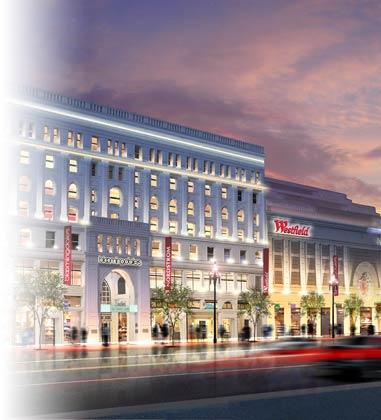 Westfield has really outdone itself and created an amazing shopping center in downtown San Francisco. The interior of the mall is beautiful with all the glass letting in natural light, especially through the glass dome preserved from the original building. It really did take my breath (and a good portion of my savings) away!
My good friend, Michelle, remarked that it reminded her of the malls in asia, specifically Korea (South, of course). After having the chance to visit it myself, I absolutely agree. In Taiwan and Japan, many of the higher end designers have boutique/stores within the center and the casual or less pricey shops are on the street, such as Gap, Benetton, etc.
So far I've checked out Mango (from Spain), Zara (from Italy), Juicy Couture (from England), Aldo, Adidas (they have the Stella McCartney line in stock), Bloomingdales, and a variety of the eateries. I did a little dance (internally) when I found out they would have a Beard Papa cream puff shop set up there. They have the tastiest shu creams filled with fresh custard cream flavored with Madagascar vanilla...yum!
Tomorrow, I may head over there with friends to hit the Dior cosmetic counter. The manager invited us to get makeovers. Everyone at the that particular counter was extremely nice without being pushy. She was most helpful in assisting me with finding the perfect birthday gift for two of my friends. I can't say what it was, as they may be reading this... Anyway, the Dior department is offering a sweet gift bag and makeover with a two item purchase. It's way too easy to go crazy, so I'll need to decide before heading there.
Whenever we plan on going shopping, window or otherwise, we usually try to fit time in to eat first then walk off the meal as we peruse the different shops. Moving after a eating aids in digestion, helps us fight off the grogginess that sometimes accompanies a carb-laden meal, and gets our circulation going. If I'm shopping for clothes on that particular day, I'll also refrain from overeating, as trying to squeeze myself into an outfit is an uncomfortable experience. Taking a two enzyme tablets prior to eating has helped speed up the breakdown of foods which I also find very helpful!
Can you imagine how gorgeous this place will be during the holidays?
If you're new to the Bay Area and planning to visit San Francisco to shop, eat, and/or take in the sights, it's a good idea to remember to dress in layers since the weather is fairly unpredictable. While it may be warm and sunny during the day, the nights can get really chilly, especially near the water. Sunglasses and a hat to protect your eyes from the sun is always something to remember.