A day at the California Birdmart Bird Show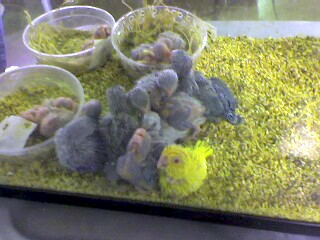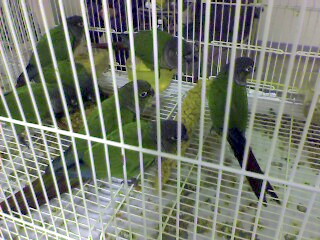 I'm not sure how clearly you can see these photos (taken with a Treo phone), but the tiny dinosaur looking creatures in the first photo are parrotlet hatchlings and the second is of Green Cheek Conures. They're different than Lucky, who is a "Yellow Sided Fancy Green Cheek Conure". His coloring is a mutation (a good kind of mutation that is..).
After spending time at the birdshow, we came home with Lucky's new toys and immediately showered and washed the clothes we attended the show in. We then washed all of his goodies and set them outside to dry.
Our friend Chie purchased a conure of her own. She found Takeshi, a Rosie Fronted Conure, from one of the breeders at the show. We helped her find a suitable cage, which needed to be large enough for him to roam around in, a large play gym made from a manzanita tree branch, and a Happy Hut for him to sleep in.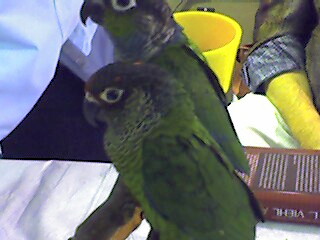 Takeshi is the one in front :)
Chie also purchased a beautiful white German Roller female canary, that she named "Hanako". This sweet little thing loved taking bits of apple while watching all the action going on at the show. Many people approached us to ask where she was purchased. She was the only all white German Roller at the show, so we were lucky to find her first.
To find a beautiful songbird of your own, I would like to recommend the following:
Mr. Ron Moy
East Bay Song Birds
(510) 932-6661
yomnor2001@yahoo.com
*specializing in: Spanish Timbrado and American Singer canaries (show quality)
The first 45 minutes there were spent talking with Susan Hamilton of Orchids & Gardens. This incredibly insightful woman grew the most fragrant chocolate scented mini orchids I've ever had the pleasure of smelling! I left with three of these in red (sweet fragrance), white (sweet sugar), yellow (sweet butter), plus a mister that can attach to any soda bottle. I am of the "Black Thumb Clan" and cannot grow anything other than mold if I tried. (Naoki is in charge of the balcony garden fyi.) Susan informed me that when an orchid's flower dies and the leaves fall off, there is no need to discard the entire plant. Instead that green stem is slowly drawing up nutrients from the soil and will sprout another flower bud when it's ready. So unless that stem has dried up, keep it fed and watered.