Preparing for Thanksgiving Dinner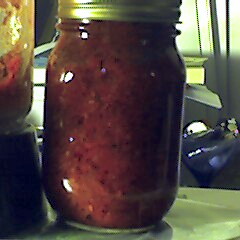 Ok, not the best picture, but this cranberry/orange relish is delicious with turkey. The color is off in this photo and it's actually a deep dark red with flecks of orange.
I used two containers of fresh cranberries, one navel orange cut into small pieces, xylitol, and pure blackberry honey. All of the fruit and honey is organic. After using the chop feature on the blender, I stored the contents in a jar for this Thursday's Thanksgiving dinner. Cinnamon, nutmeg, and/or a light dash of ground clove can be added.
To keep from overeating during the holidays, I'll usually have a light meal two hours before consisting of food that I'm used to eating on a daily basis, such as brown rice, fish or chicken and a dark green veggie on the side. When we arrive at my family's place, I'll use a small plate to keep portions under control. If I'm too lazy to fill a second serving, I've probably had enough to eat.
My sweet-loving family also always have a variety of desserts to gorge upon. Mom's pecan pie is my weakness, so I'll have a sliver and a nice hot cup of cinnamon tea to accompany it. This time I'll bring a lovely chocolate port from Sonoma Port Works (I blogged about this earlier) for my sister. It's heavenly drizzled on vanilla bean ice cream.
Once again, thank you Wikipedia!


Cranberries exhibit a level of tannins, in addition to antioxidants. Tannins have anti-clotting properties, and may help reduce infections in the urinary track and reduce the amount of plaque-causing bacteria in the mouth, thus being a prophylaxis for gingivitis.