Daiso in Daly City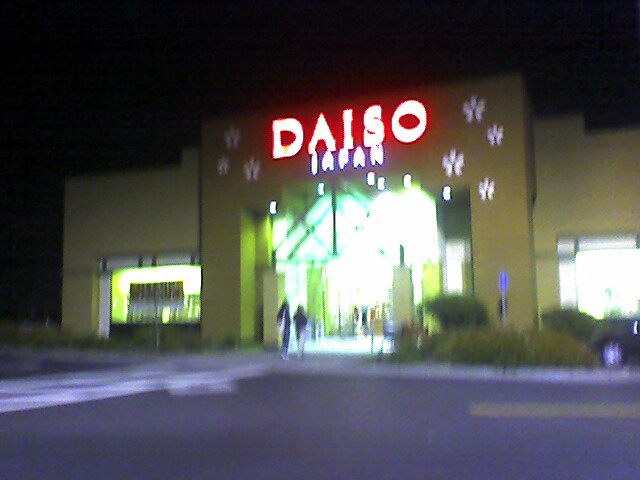 A blurry pic taken with my cellphone. It was so cold, I couldn't stop shaking long enough to get a clear shot.
One of the best places to visit while in Japan are the 100 yen shops! These stores blow away any of the $1 stores that I've visited in the U.S. They have everything from accessories, kitchenware, specialty gadgets, cute stationary, and so much more. I love the ceramic dishes they sell. They range from simple coffee mugs to beautiful glazed pottery.
Well for the longest time, we've had stores such as Kyun offering merchandise from these 100 yen shops at a small elevated price (to cover the cost of shipping, etc.). The one that we used to visit in Milpitas is no longer there; however, Daiso, a large chain from Japan has opened a huge store in Daly City. Their grand opening was in December 2006 and from what I've heard, it was a big success. They plan on expanding throughout the Bay Area and currently have locations in Seattle and other parts of the U.S.
Our friend, Nobuyo, a skilled interior designer, helped in designing the interior of the Daly City store (which was formerly a Good Guys). She and her company did an amazing job of placing everything, right down to the snack area positioned next to the cash register...dangerous :)
Another friend of ours who owns a successful Japanese restaurant in Monterey selects, purchases and ships most of his tableware and settings from the 100 yen shops while in Japan. The cost is less than what you'd find at IKEA and their prices are phenomenally low!
Most of the items at Daiso are $1.50 unless otherwise marked. Nothing that I've seen goes beyond $5. It's recommended to use one of their tiny shopping carts unless you're on a budget, then I'd suggest a basket. It's just too easy to go crazy in there. I was tempted to buy several of the cute vitamin holders and may go back soon to buy and use them in a promotion.
Please visit this store if you have a chance. It's across from Serramonte shopping center and accessible via 280.