Great News! Nijiya San Jose to Open 2/11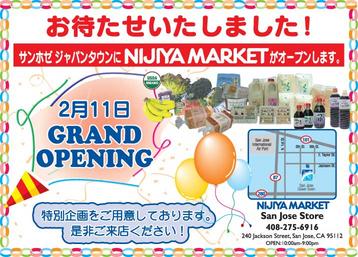 I'm so excited about the opening of Nijiya here in San Jose! It will be the closest market to us that sells locally grown, organic produce, Japanese/Asian food items, delicious cooked lunch box sets, and yummy desserts!! We've been traveling to the Mountain View location to purchase their special organic brown rice and to Mitsuwa off of Saratoga Avenue to find other ingredients. This is so much more convenient.
Hopefully there will be other wonderful retail stores and restaurants that come to San Jose's Japantown!
Jeanette Lee Hada

Jeanette Lee Hada
Jeanette.Hada.Org
Contact Me
Profile
Primary Links
Maintenance by
Categories
Building a Business in Real Beauty
NotaryLoans
Skincare Pro
February 2012
| Sun | Mon | Tue | Wed | Thu | Fri | Sat |
| --- | --- | --- | --- | --- | --- | --- |
| | | | 1 | 2 | 3 | 4 |
| 5 | 6 | 7 | 8 | 9 | 10 | 11 |
| 12 | 13 | 14 | 15 | 16 | 17 | 18 |
| 19 | 20 | 21 | 22 | 23 | 24 | 25 |
| 26 | 27 | 28 | 29 | | | |
Hada Family