Favorite places to shop, dine, and frequent in the Bay Area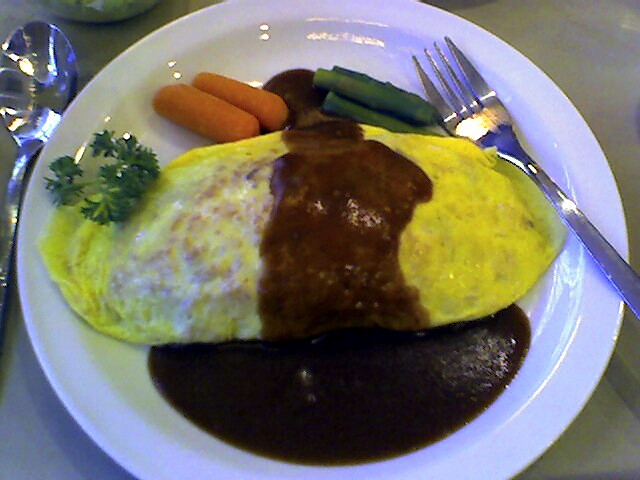 This is "omurice" (Japanese-style omelette rice topped with demiglace sauce) from Clover Bakery in San Jose.
Last night I found two teabags of my favorite organic mulberry tea and enjoyed it alongside my pastries filled with spicy fish roe (mentaiko) this afternoon. The flavors brought back memories of our travels to Taiwan and Japan two years ago. Taipei is where I purchased this wonderful tea. Naoki and I often ate Japanese style pastries/bread while we were running around Japan hosting presentations and promoting our business.
*** South Bay ***
Clover Bakery
4342 Moorpark Ave
San Jose, CA 95129
(408) 257-3412
* Closed on Mondays
* Now open for dinner til 9 p.m.
~ Lovely little neighborhood bakery specializing in Japanese style breads, desserts, and western dishes.... (Delicious and fresh; however, not for those following a low-glycemic lifestyle)
Myung Dong Tofu Cabin
1484 Halford Ave
Santa Clara, CA 95051
(408) 246-1484
~ Wonderful Korean food can be found here. Their seafood rice (bibambap /sp?) is especially yummy!!)
~ Plenty of side dishes given to enjoy. Lots of vegetable and seafood to select here!
~ Nice staff too, which always makes everything taste better :)
Aki's Bakery
355 Meridian Ave
San Jose, CA 95126
(408) 287-5404
http://www.akisbakery.com
~ When you're craving just a little something sweet, but don't want to go overboard, call Aki's in advance for one of their amazing vanilla cupcakes with light vanilla fluff frosting. They are the lightest and airiest cupcakes I've ever had >.<
This list to be continued...