The Last Fireworks Show in Okazaki - definitely one to remember...
We sat in the middle of two firework shows. One side rapidly shot off many smaller fireworks while the other side shot off larger ones. Half way through, we were hit with a thundershower that left everyone drenched and two inches of water collected on the pavement. It was definitely a memorable event!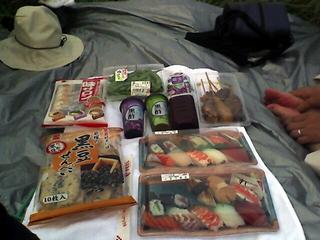 For dinner we had an assortment of sushi, grilled chicken (festival food), and a bunch of other yummy snacks. The cake roll was the best and filled with coffee flavored cream. Luckily we ate most everything before the thunderstorm came.
I wish I had images of the fireworks going off and lightning streaking through the sky. Most of the images I place on my blog were taken with my Treo cellphone. They're low-res, but easy to upload. Hope you enjoy them
I'll upload pictures of the site flooded after the storm. Not to be disrespectful, but with all the the garbage floating about, people running about with flashlights and smoke blowing in from the fireworks, it looked like a war torn camp of sorts...really.
Jeanette Lee Hada

Jeanette Lee Hada
Jeanette.Hada.Org
Contact Me
Profile
Primary Links
Maintenance by
Categories
Building a Business in Real Beauty
NotaryLoans
Skincare Pro
February 2012
| Sun | Mon | Tue | Wed | Thu | Fri | Sat |
| --- | --- | --- | --- | --- | --- | --- |
| | | | 1 | 2 | 3 | 4 |
| 5 | 6 | 7 | 8 | 9 | 10 | 11 |
| 12 | 13 | 14 | 15 | 16 | 17 | 18 |
| 19 | 20 | 21 | 22 | 23 | 24 | 25 |
| 26 | 27 | 28 | 29 | | | |
Hada Family