A Sunday full of Sparkles...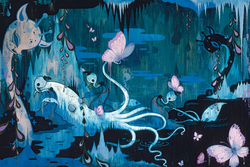 Sunday was an interesting and relaxing day. I had the pleasure of catching the last day of Camille Rose Garcia's exhibit at the San Jose Museum of Art. Her stunning art is a vibrant display of sparkles and intense color.
After the exhibit, we walked across the street to St. Joseph's Church, where they were having choir practice. Though it isn't the oldest church with the most history, it's one of the loveliest ones I've visited in the Bay Area. St. Mary's in San Francisco is another of my favorites.
After leaving the church, we walked over to Camera 12 Theaters to watch "Resident Evil 3". I don't really have much to say about it other than it was loud and Milla Jovovich is pretty.
Jeanette Lee Hada

Jeanette Lee Hada
Jeanette.Hada.Org
Contact Me
Profile
Primary Links
Maintenance by
Categories
Building a Business in Real Beauty
NotaryLoans
Skincare Pro
February 2012
| Sun | Mon | Tue | Wed | Thu | Fri | Sat |
| --- | --- | --- | --- | --- | --- | --- |
| | | | 1 | 2 | 3 | 4 |
| 5 | 6 | 7 | 8 | 9 | 10 | 11 |
| 12 | 13 | 14 | 15 | 16 | 17 | 18 |
| 19 | 20 | 21 | 22 | 23 | 24 | 25 |
| 26 | 27 | 28 | 29 | | | |
Hada Family