Ginseng tea with pink roses, pink pickled garlic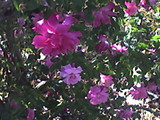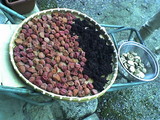 Ever since returning from Taiwan in 2005, I've really enjoyed the ritual of having a cup of tea after dinner. There was a particular mulberry tea from there that I loved, but finished off within the first few weeks after our return. If I have the chance to visit again, I will make a special trip to purchase the same brand again. Other mulberry teas just don't seem to have that same deep flavor. Mulberry leaf tea is known to be good for lowering blood pressure and maintaining blood sugar levels.
The tea I had this evening was made with ginseng and dried pink rose hips. I was a little put off when I first opened the teabag as it smelled like potpourri, but after brewing it for a few minutes it made the prettiest and most aromatic cup of tea. Rose hips are high in vitamin C and can also be eaten. The ginseng teabag that you add separately has a flavor that takes getting used to. It's definitely an earthy tasting brew.
Jeanette Lee Hada

Jeanette Lee Hada
Jeanette.Hada.Org
Contact Me
Profile
Primary Links
Maintenance by
Categories
Building a Business in Real Beauty
NotaryLoans
Skincare Pro
February 2012
| Sun | Mon | Tue | Wed | Thu | Fri | Sat |
| --- | --- | --- | --- | --- | --- | --- |
| | | | 1 | 2 | 3 | 4 |
| 5 | 6 | 7 | 8 | 9 | 10 | 11 |
| 12 | 13 | 14 | 15 | 16 | 17 | 18 |
| 19 | 20 | 21 | 22 | 23 | 24 | 25 |
| 26 | 27 | 28 | 29 | | | |
Hada Family