Results tagged "SanJose" from Naoki Hada: Healthy, Lucky, Wealthy & Happy with HadaSeicha's Green Tea
This year San Jose Obon Festival and Obon Dance practice schedule has released.
Right side photo is the list of songs for 2015.
For details, please check SJ Betsuin website.
==
Update: Song list
真宗音頭(Shinshu Ondo)
お盆の唄(Obono no Uta)
大山音頭(Oyama Ondo)
ワンダフル音頭(Woderful Ondo)
ポケモン音頭(Pokemon Ondo)
すきやき(上を向いて歩こう)(Sukiyaki)
ジャンケン音頭(Janken Ondo)
火の国太鼓(Hinokuni Daiko)
幸せサンバ(Shiawase Samba)
千鳥バンド音頭(Chidori Band Ondo)
サンホゼ囃子(San Jose Bayahashi )
えいじゃないか(Ei Ja Naika)
花火音頭(Hanabi Ondo)
炭坑節(Tanko Bushi)
お盆の唄(Obon no Uta)
Contact Form(Question, Order, etc)
|
Order HadaSeicha green tea
|
日本語ページ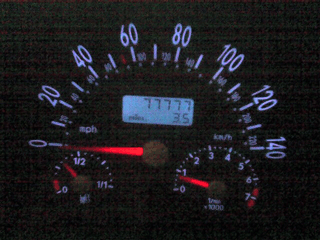 After Las Vegas trip 2 weeks ago, I was checking my car's odo meter time to time. For business mileage I check every day. But I wanted to see 77777 mile record.
And I've got it. It was yesterday. I avoided freeway and took local load for commute.
The 98 New Beetle was present from my parents for our wedding. After we've stuck on Pismo Beach with dirt bike trailer, the maintenance cost much more than average.
For the cost wise, it does not make sense to keep car. But I consider it is a kind of luxury I could not do before. I talked to one of my friends some time ago. He said it is not luxury, it is love.
The beetle has number plate as "HADA BUG", but we call "BeBe" as nick name. "Be" is from Beetle. Another "Be" is from alarm lock sound.
I talk to "BeBe" that "You are good car. I appreciate you all the time." He says "Thank you.". It might be just reflection, but I don't mind.
-Naoki
Contact Form(Question, Order, etc)
|
Order HadaSeicha green tea
|
日本語ページ