Results tagged "green tea" from HadaSeicha's Family Green Tea: Firm/Factory direct to your home.
Submit form to place reservation (by April 30)
You'll receive email with estimated cost.
Send money by PayPal
You'll receive Hadaseicha's green tea (around the beginning of June)
Shipping will be made by EMS of Yubin (Japanese postal service). It is trackable and insured.
EMS Info.
EMS International Mail Rate

Note: Total weight will be heavier than just tea.
Naoki Hada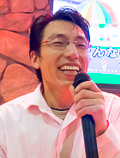 Naoki Hada
Naoki.Hada.Us
January 2018
| Sun | Mon | Tue | Wed | Thu | Fri | Sat |
| --- | --- | --- | --- | --- | --- | --- |
| | 1 | 2 | 3 | 4 | 5 | 6 |
| 7 | 8 | 9 | 10 | 11 | 12 | 13 |
| 14 | 15 | 16 | 17 | 18 | 19 | 20 |
| 21 | 22 | 23 | 24 | 25 | 26 | 27 |
| 28 | 29 | 30 | 31 | | | |
Categories
Tag Cloud
January 2018
| Sun | Mon | Tue | Wed | Thu | Fri | Sat |
| --- | --- | --- | --- | --- | --- | --- |
| | 1 | 2 | 3 | 4 | 5 | 6 |
| 7 | 8 | 9 | 10 | 11 | 12 | 13 |
| 14 | 15 | 16 | 17 | 18 | 19 | 20 |
| 21 | 22 | 23 | 24 | 25 | 26 | 27 |
| 28 | 29 | 30 | 31 | | | |
Tag Cloud