March 2006 Archives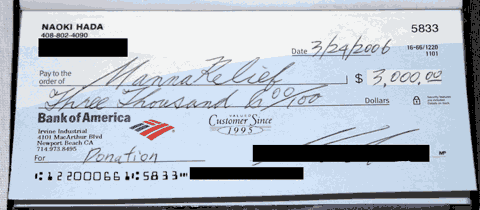 I'm still in Fort Worth, TX for glyconutrition business seminar. This is my 3rd year.
Today's main event was life change experience story and asked for donation for MannaRelief, which is NPO to help people who cannot afford financially with glyconutrition.
My cash donation this year was $3,000. Last year was $1000 and it was 10% income from my glyconutrition business. Business did not grow as I expected last year. Only 50% grow. I was planning 5-15 times grow. I was a little disappointed to myself, but I wanted to contribute more. So I donated 20% of my glyconutrition business income (as pre-tax) $3000.
It was my largest donation. When I was writing check, I was very nervous because I have to pay tax due in April.
But I was more excited and proud about myself same time.
If you don't know about MannaRelief yet, please check
http://www.mannarelief.org
They will be more known through 8th Wonder of World Project
http://www.8thwow.com
-Naoki
Contact Form(Question, Order, etc)
|
Order HadaSeicha green tea
|
日本語ページ

Thank you very much. Spring leave tea will be available soon.
You can order reservation at following website.
Hadaseicha: http://www.hadaseicha.com/en/
-Naoki
Contact Form(Question, Order, etc)
|
Order HadaSeicha green tea
|
日本語ページ