Double shower filter installed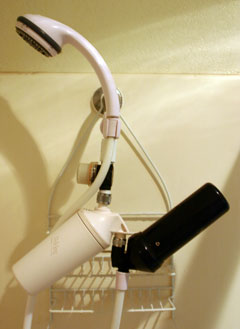 Do you know your skin absorb toxin?
It is called transdermal absorption. Many people care about what you eat & drink. But it is easy to forget about this toxin through your skin. Skin care, cosmetics, even shampoo & soup may harm you.
Chlorine (& chlorinated compound) is in the tap water & shower water. When it get vaporized, you intake to your lung.
Your pore also open with warm water and absorb toxin more.
Right photo is my shower filter. White one is old one. Black one installed recently. Both did not reduce water pressure so much.
I used to get itchy after the hot shower, but after 2nd one. I don't get it any more. My wife experienced same way.
When we had white one first time, we noticed the difference a lot. But the filter may not work long time.
Water in Silicon Valley is not so great. Especially in San Jose. Mountain View was much better. But after both shower filter I think the shower water quality got much improved. I recommended white one to friend in Oklahoma. She like it too. So I think it is worth to try for your place too.
BTW, black one has cleaning mode. In the mode it spray out to left side. It's better to install facing to wall.
White filter: Aquasana Shower Filter
Black filter: New Wellness Shower Filter
You may be able to install 2 white one. (white one is cheaper)
-Naoki
Contact Form(Question, Order, etc)
|
Order HadaSeicha green tea
|
日本語ページ
Profile
Maintenance by
Categories