Chicken Francis @ Tony Soprano's in downtown San Jose
I was recommending this restaurant to many people. Pizza is excellent, but other food are also excellent.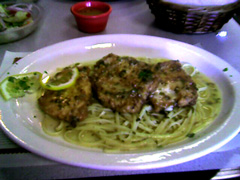 But I forgot what I ate before. That was Chicken Francis.
Main cheff Marvin is not here on Sunday. So I'd recommend other day.
He has experienced over 17 years and very care about what he cook. House source is made every day from fresh vegitables.
This dish does not have tomato souce. So I'd recommend to have other dish with tomato source.
http://www.tonysopranospizzeria.com/
-Naoki
Contact Form(Question, Order, etc)
|
Order HadaSeicha green tea
|
日本語ページ
Profile
Maintenance by
Categories